I don't know if John plans on attending the 30th reunion or not — probably not — but if he does, he'll almost certainly get the award for the furthest travelled.
See, John lives in Munich, Germany these days, where he's a software developer, who happens to "dabble" in music. Which explains why he must keep up this dapper appearance: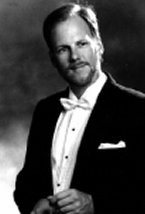 I corresponded w/ John a year or so ago. Still a nice guy, despite the fact that he left me with major insecurities about my own intellect throughout high school.