So, if research out of Carnegie-Mellon University has anything to say about it, it could be that renewing old friendships might keep the cold away???
A paper by Cohen, et al ("Social Integration and Health:  The Case of the Common Cold") suggests that those who had few social roles were nearly twice as likely to contract a cold as those who had a high degree of social role diversity.  (http://www.cmu.edu/joss/content/articles/volume1/cohen.html).
Look — there's an actual bar graph.  So it must be science, and therefore true!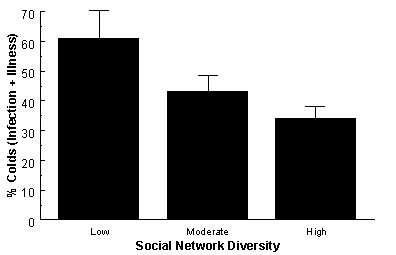 So maybe occasionally expanding your social role diversity by renewing acquaintances with old friends can keep you healthy?
If so (and the scientist part of me feels compelled to insert the disclaimer "it's a BIG if"), then the picture below shows a little preventative medicine at work.

From left:  Dave Van Beek, Ozie Greene, Richard Nichols, Jerry Scheffler,
and some fat dude who wouldn't get out of the picture…..
In case you don't recognize anybody in the picture, or any of  the names, this is a statistically skewed sampling of the Mariner High class of 1976, seen at a recent "mini-reunion" (appropriate for a school that had mini-term, don't you think?) at the Everett Mall Starbucks on March 3, 2009.  Notably absent are approx. 80 other members of our class who are on the mailing list, but weren't able to attend.
(though, truth be told, if everybody had shown up I think we'd have had a problem fitting them into Starbucks)
A date has not yet been set for the next of our informal get togethers — but I am open to suggestions, and perfectly willing to announce similar events organized by others.
Now, if only diversity of social roles could stop male pattern baldness…..
Think spring!